By admin | Published July 24th, 2013
How to Manifest Your Soul Mate
By Audrey Hope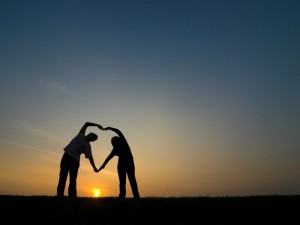 Having true love is a science. If you do what must be done, you will create the space to attract your soulmate. It is that simple. When you are healed and unblocked and demand and command the best, you are then free to create miracles of love.
What is true spiritual love? It is a high frequency sacred love that sets your heart on fire that aligns to a higher source and serves the universe, elevates the planet.
Imagine a light structure of an iron triangle, where god is the shining vortex, and both souls, two equal pillars with hearts aflame – are looking up to heaven. The divinity in me salutes the divinity in you. This is the balanced blessed union of king and queen.
This kind of relationship is not for everyone and is not the same as dating.
Twin flame love is based on the spiritual laws of truth and integrity and rests on the foundation of soul healing. One must transform into their greatest potential and become what they seek in another. What you want in your partner, you must become yourself.The mirror of life and relationships shows you where you need to look – to change. All pain is a gift. All characters, all circumstances, in the play, are divinely sent and necessary for soul growth.
The science of true love requires that you live with an exuberant passion for truth and a purpose greater than yourself. You must want to be "real" with a laser determination like (in the philosophy of Ramakrishna); "a man whose hair is on fire wants a pond." You must be willing to risk everything for an authentic life and dare to face yourself in the light of day… You must be brave in the search. You must embrace patience. Real love takes longer.
Ask for it, and it will come. Get ready – Like eggs breaking to make an omelet, your world will crucify to resurrect. Everything might be torn apart to serve the greater good, and it will all be worth it!
The key to manifesting extraordinary love is to become free, really free. In the royalty and high frequency of self-worth and healing, magic is possible. The universe can then act as the "divine matchmaker" and one need only to rest in powerful magnetic energy and wait for the call from heaven.
To begin the journey of real love, you must ask yourself these questions:
Am I ready to have the best?

Am I done taking crumbs?

Am I ready to do everything it takes to transform?

Can I risk everything to have a great life and love?

Can I live 100 percent in truth and integrity?

Can I stop blaming others for my unhappiness?

Can I take responsibility for my own life?

Can I heal and unblock my past?

Am I done with petty issues?

Can I become what I want in another?

Can I be as wonderful as the person I desire to be with?

Can I stop all negative thinking?

Can I surrender my love life to a higher power?
If the answer is YES, YES, YES then true love is upon you!
Audrey Hope is a Soul Relationship Healer
Contact:hopesvoice@aol.com
www.audreyhope.com
Archives
Categories
Tag Cloud